kpnamboodiris
Onam Offer 15%
Regular price
Sale price
Rs. 55.00
Unit price
per
Sale
Sold out
K P Namboodiri's natural Salt toothpaste has a unique combination of Natural salt (Rock Salt / Induppu) and herbal actives, these two ingredients help to protect the enamel of the teeth, keep gum & teem healthily, and prevent the formation of plaque.  The long lasting fresh breath is provided by the natural ingredients present in the Herbal Actives and the Rock salt cleanses the teeth effectively and offers strong white teeth. K P Namboodiri's natural Salt toothpaste is fluoride-free toothpaste, suitable for all.
Using K P Namboodiris natural salt toothpaste gives of natural way of oral protection
Share
View full details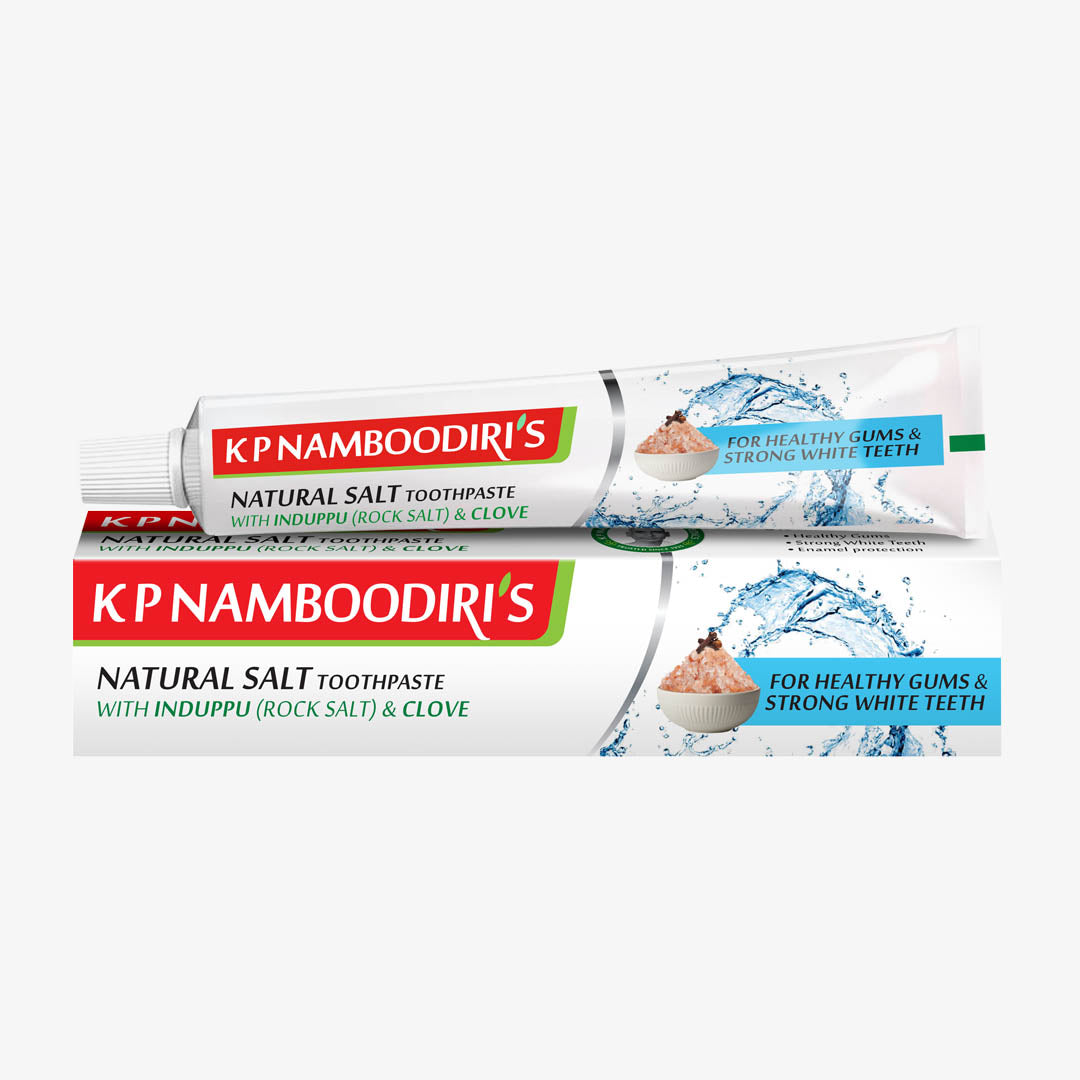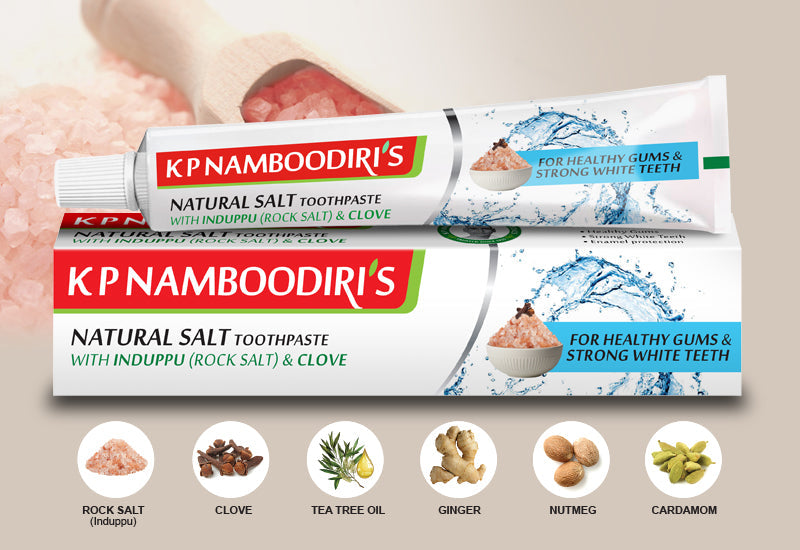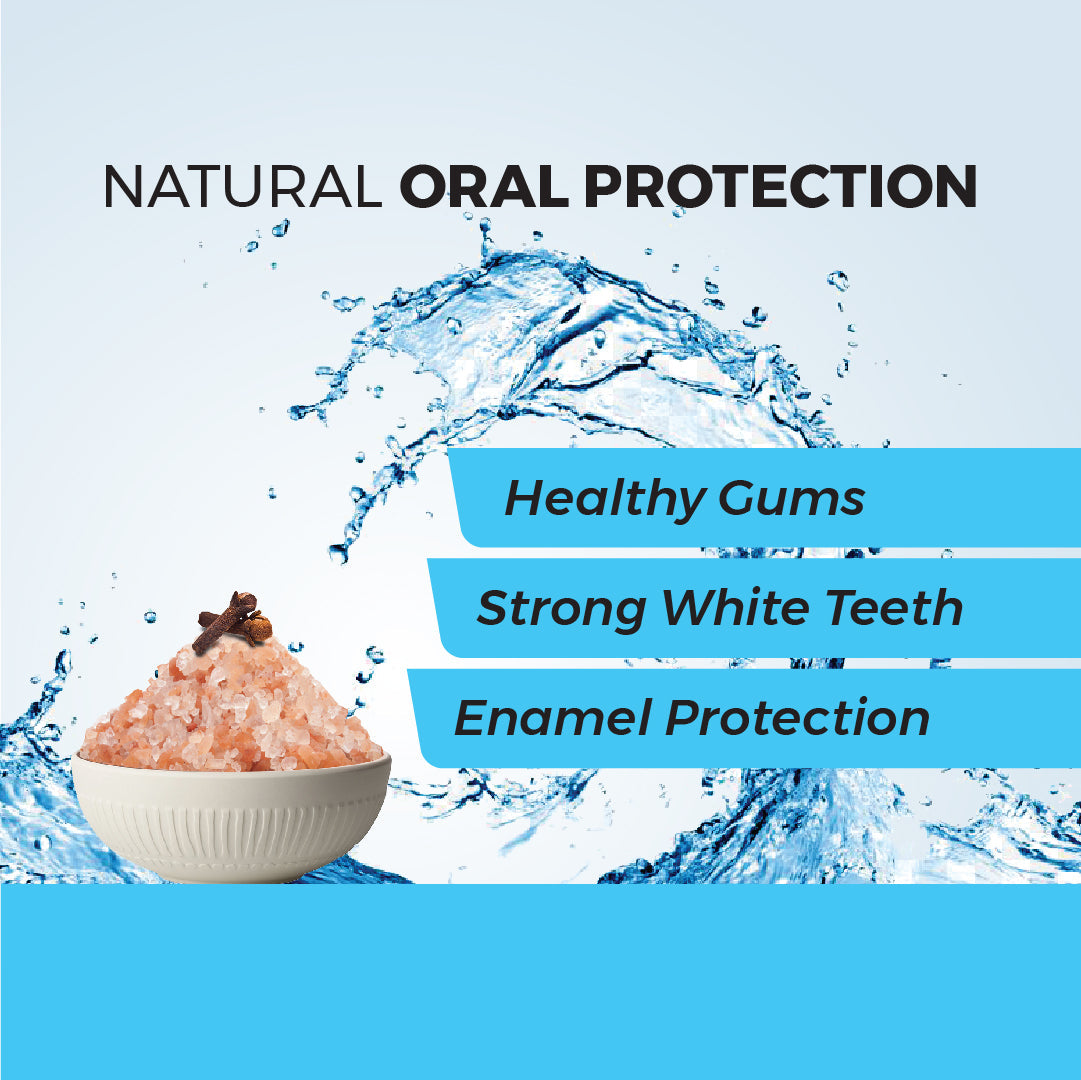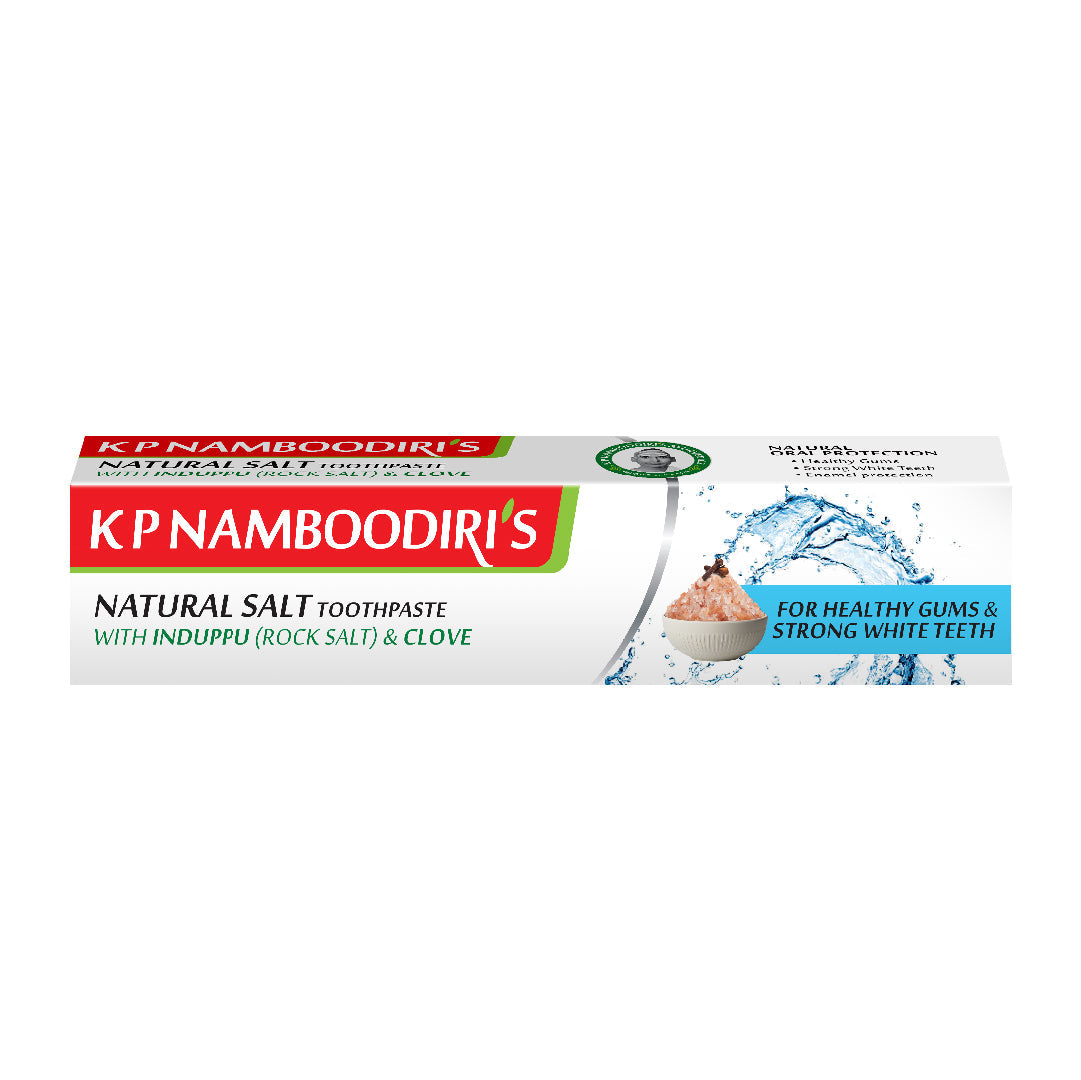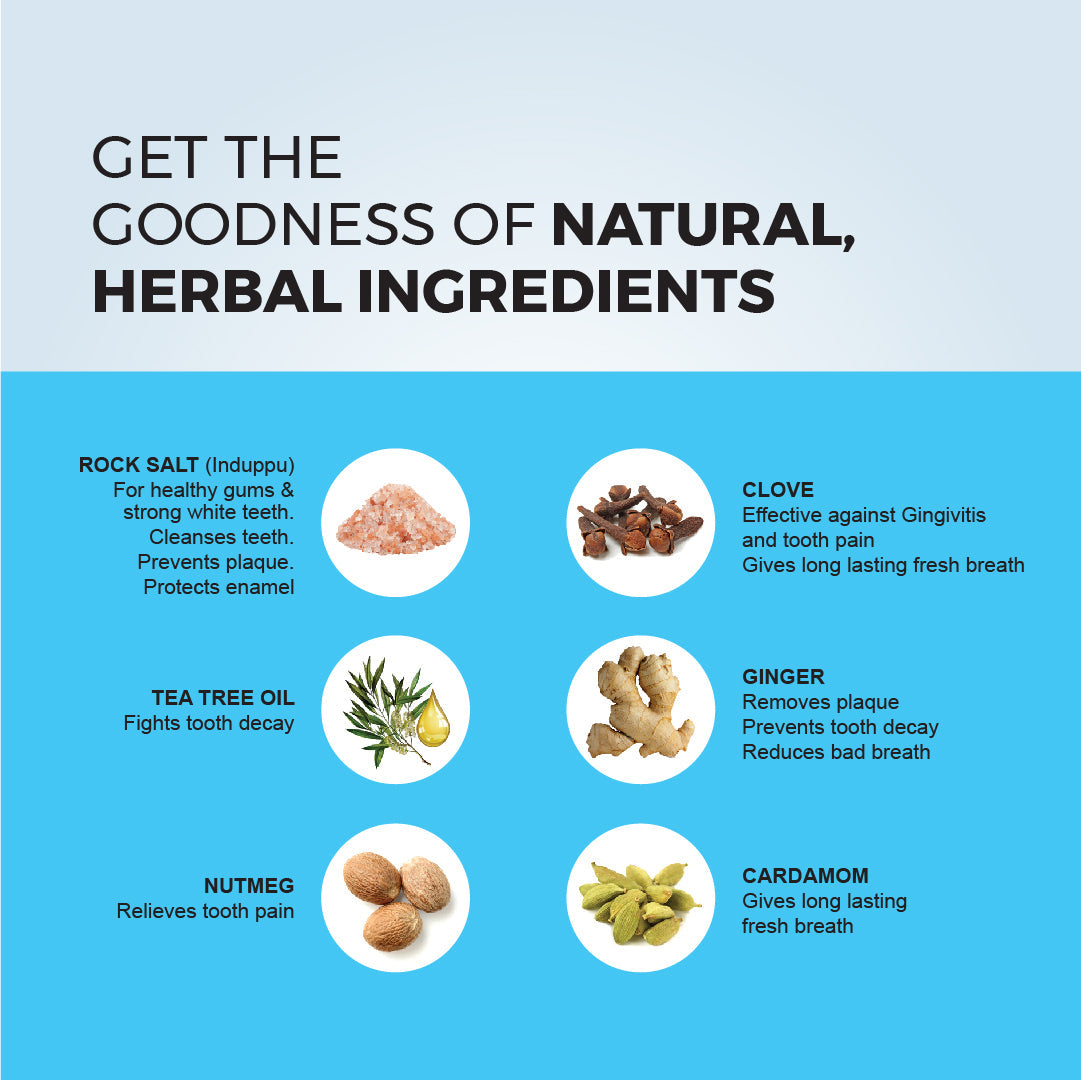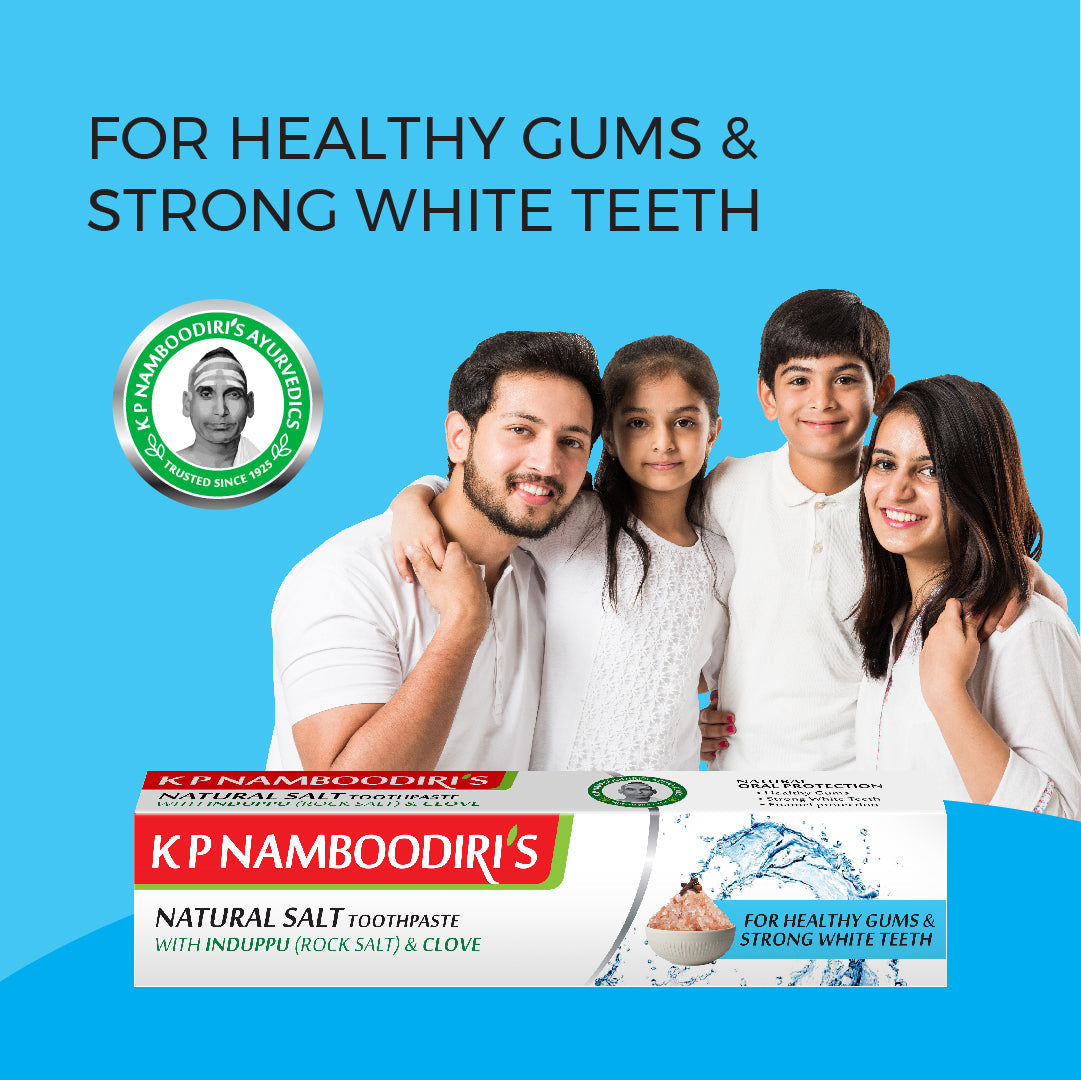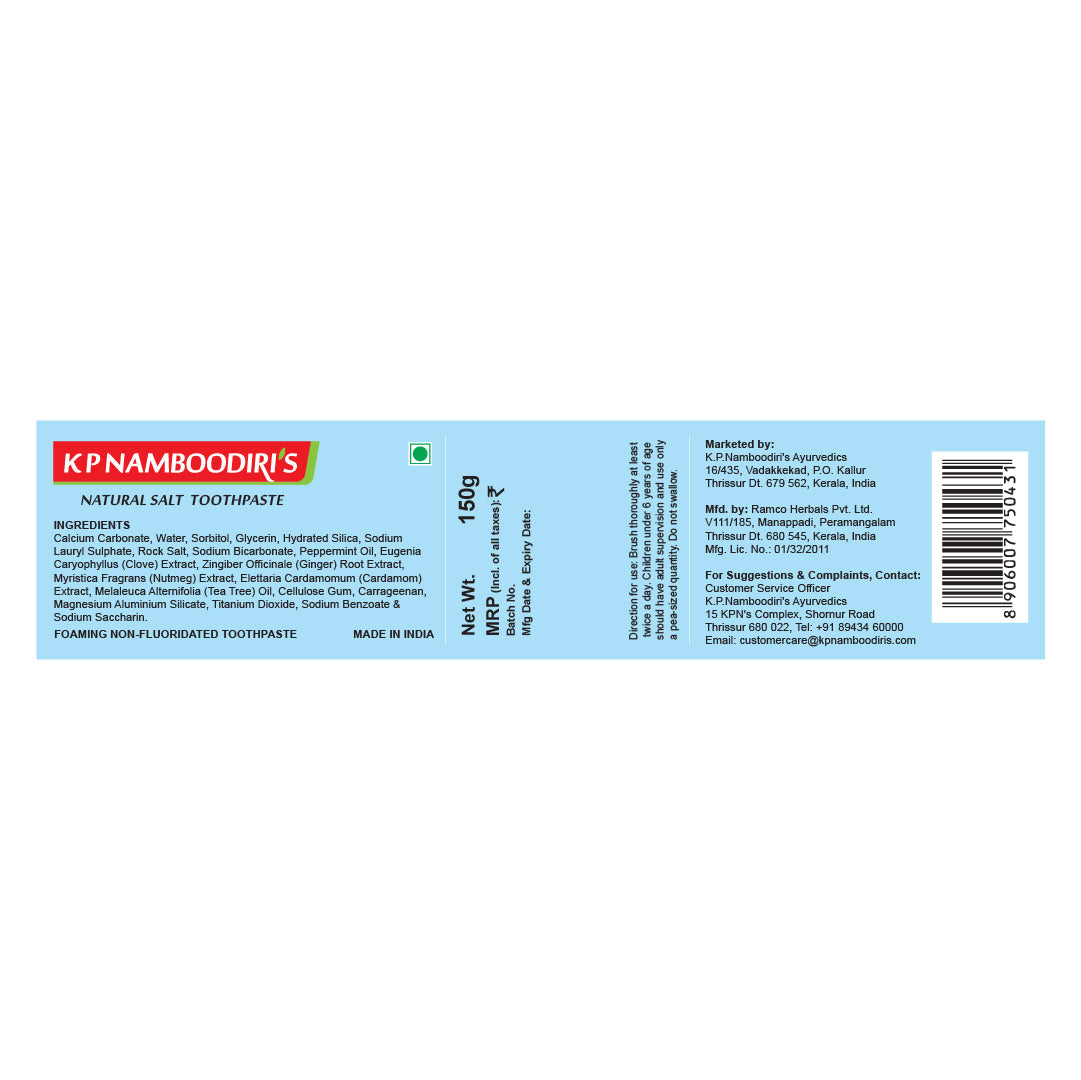 Key benefits of using K P Namboodiri's Natural Salt Toothpaste
Makes teeth & gumstrong & healthy

Our natural salt toothpaste has the goodness of  rock salt, ginger, Tea Tree oil, which restrict the growth of diseased causing bacteria and maintain oral
health.

Strong white teeth

Antibacterial properties of ginger, Tea tree oil and rock salt present in natural salt toothpaste help prevent the buildup of bacteria and plaque around teeth and gum. This can help to keep your mouth healthy and free from infection

Reduce bad breath

The pepper and ginger present in K P Namboodiris Natural salt toothpaste are natural stimulants that can help breakdown the substances that cause bad breath. These substances can include food
particles, bacteria, and other debris. Pepper and ginger can also help to kill bacteria that can cause bad breath

Fights tooth decay

Our Natural Salt toothpaste has anti-inflammatory properties,  Herbal elements in this toothpaste help reduce the oral bacteria that lead to cavities and make your teeth strong and healthy. Natural ingredients like, Rock salt, Clove, Ginger, pepper in natural salt toothpaste help to protect your teeth and gums and also restrict the growth of diseased causing bacteria and maintain
oral health.
Rock Salt

Cleanse teeth, prevent plaque and protect enamel

Ginger

Removes plaque, prevents tooth decay and reduces bad breath

Clove

Relieves tooth pain, reduces bad breath

Cardamon

Gives long lasting fresh breath
Wet your toothbrush, apply the toothpaste and brush your teeth. Spit out the foam after brushing. Rinse your mouth thoroughly. Use twice daily or as directed by the dentist.

Children under 6 years of age should have adult supervision.
FAQ
What are the keybenefits of using K P Namboodiris Natural rock salt Toothpaste?

Its natural way of oral protection provides you strong white teeth, healthy gum, reduce bad breath
Is this an ayurvedic toothpaste?

The key ingredients are ayurvedic or herbal in nature
Are the flavors inside the toothpaste natural?

One of the active ingredients is miswak, due to its presence, this gives pleasing taste
Is this fluoride free?

Yes, K P Namboodiris Natural Salt toothpaste is fluoride free
Can children use this?

Children under 6 years of age should have adult supervision