K P Namboodiri's
15 % Discount on MRP
Regular price
Sale price
Rs. 65.00
Unit price
per
Sale
Sold out
Cleanse your hair, and scalp and keep it free from dandruff with K P Namboodiris Ayurvedic Anti Dandruff Shampoo. It contains a combination of Reetha, Shikakai, Curry Leaves and Tea tree oil for effective dandruff control, also acting as a natural conditioner and source of Vitamin C.
The goodness of herbal ingredients makes it the best-in-class shampoo for dandruff and itchy scalp. The herbal ingredients present in this Anti Dandruff Shampoo are known for their Antimicrobial, Antibacterial, and Anti-inflammatory properties that cleanse and soothe your hair and scalp. They also help cleanse excess sebum oil production and gently removes dandruff flakes. Vitamin C and Antioxidants from the ingredients promote hair growth by maintaining healthy blood vessels in the scalp.
K P Namboodiri's  Ayurvedic Anti Dandruff Shampoo has been clinically proven* to its effectiveness
Share
View full details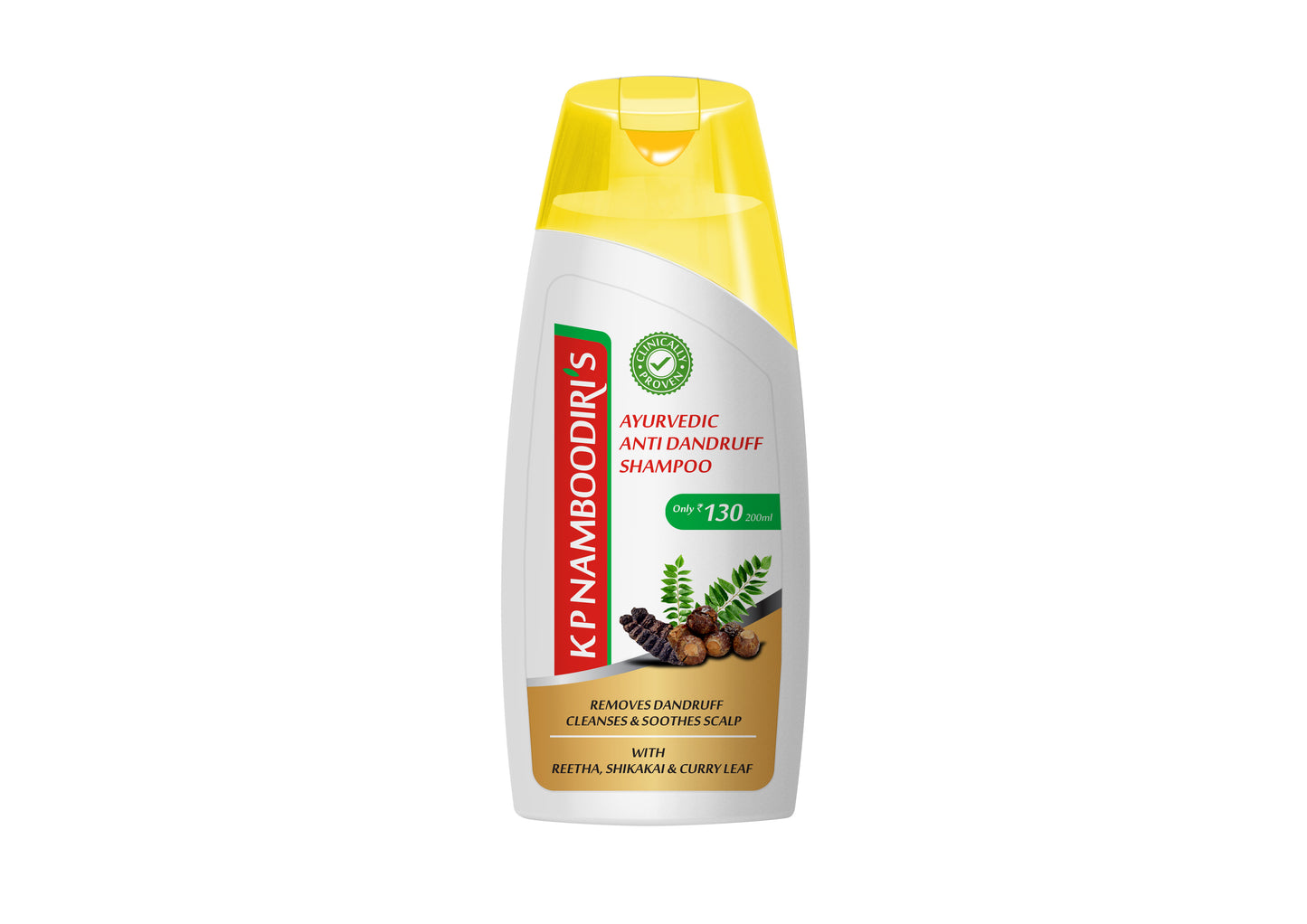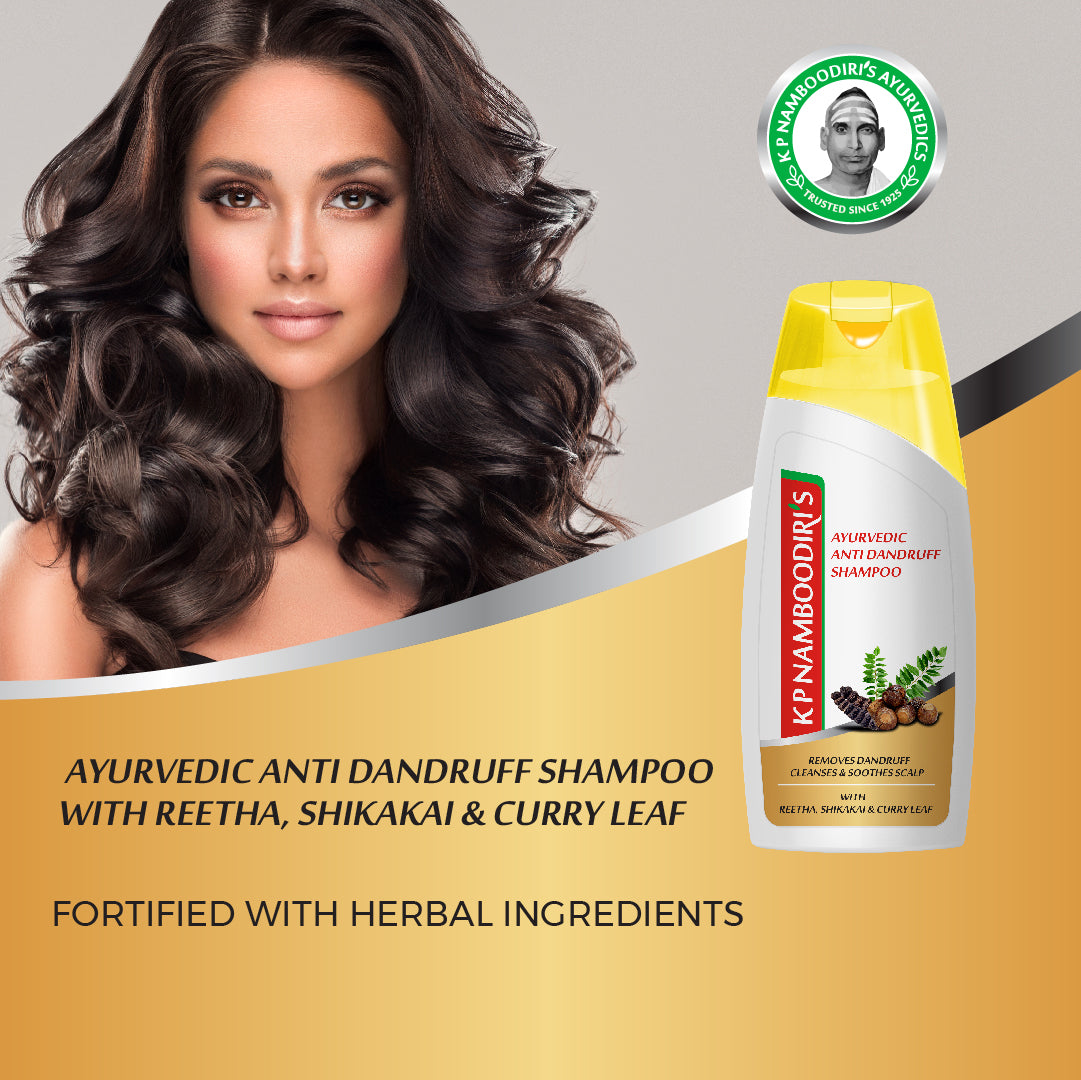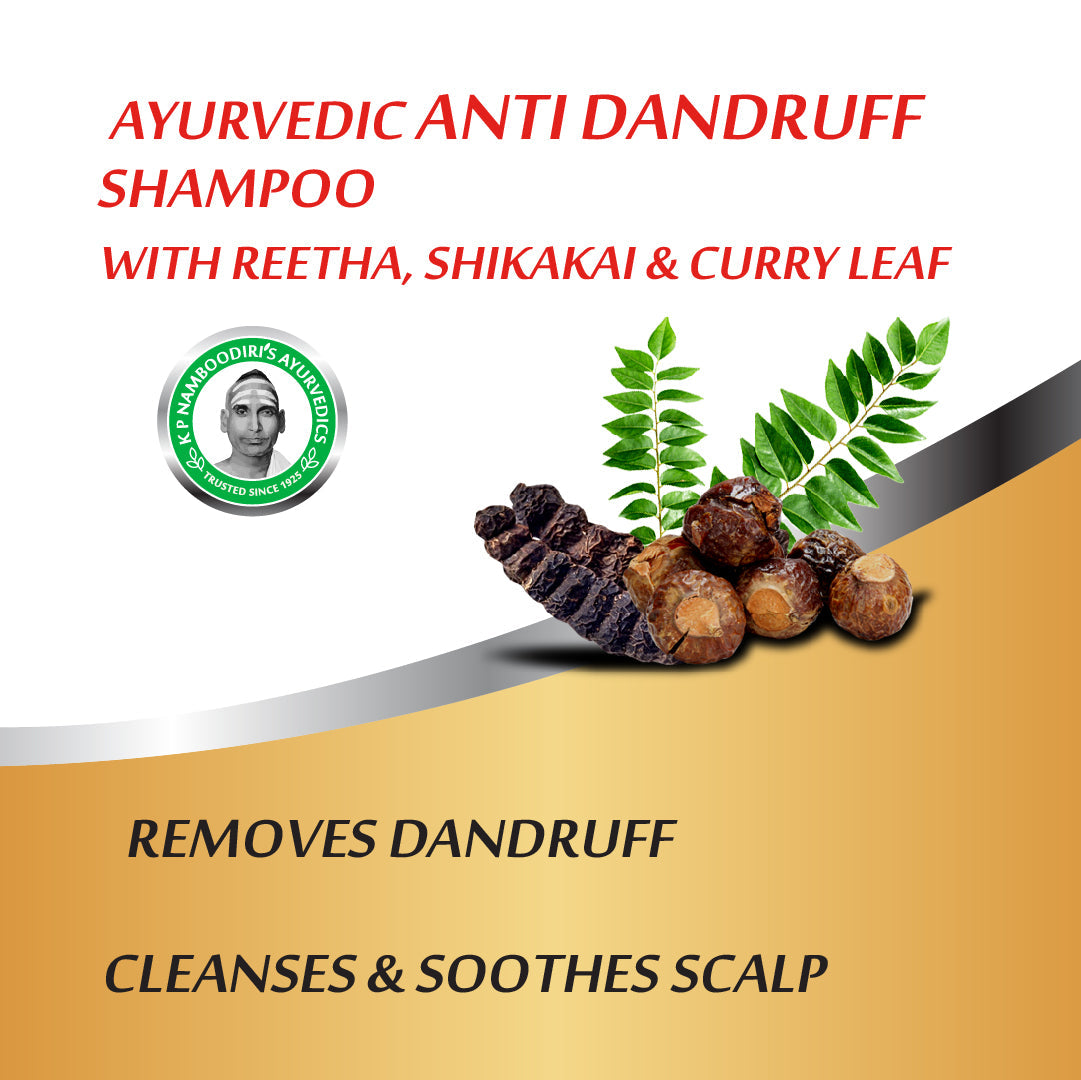 Key benefits of using K P Namboodiris Herbal toothpaste
Removes dandruff

K P Namboodiri's Ayurvedic Anti Dandruff Shampoo has the goodness of Reetha, Shikakai, Curry Leaves and Tea tree oil, that effectively controls dandruff and cleanses the scalp

Control oil formation

The herbal extract present in the Shampoo aids in regulating
the excess oil present in the scalp resulting in a healthier scalp and hair.

Soothes scalp

The properties of ingredients present in our shampoo helps
reduce itchy scalp and irritation.
Tea tree oil

Fights dandruff, reduces inflammation, regulate oil production

Reetha

Removes dandruff from scalp and control hair fall

Shikakai

Cleanses the scalp, strengthening the hair from the roots

Curry Leaf

Rich source of Vitamins and anti oxidants
Take 2-4ml of anti dandruff shampoo mix with enough water


Apply to wet hair and scalp, massage gentle, leave it for 1-2 minutes


Rinses thoroughly

FAQ
What the key ingredients present in K PNamboodiris Ayurvedic antidandruff shampoo ?

Reetha, Shikakai, Curry Leaves and Tea tree oil are the active ingredients present in the shampoo
How many times can I use this?

We are recommending twice in a week