kpnamboodiris
Regular price
Sale price
Rs. 90.00
Unit price
per
Sale
Sold out
BUY 3 GET 1 FREE* Code KPNHTP
FREE SHIPPING for all purchases above 499
K P Namboodiri's Herbal Toothpaste is enriched with the goodness of genuine ayurvedic & herbal ingredients like Clove, Ginger, Amla, Pepper etc. to give your teeth maximum protection and complete oral care. Our Herbal toothpaste is made with a time-tested unique formulation that provides Complete Dental Care by fighting common dental problems such as bleeding gums, cavity formation, bad breath, plaque formation and tooth decay, apart from helping to strength teeth & gum.
K P Namboodiri's formulation that uses superior quality ingredients for good results. K P Namboodiri's Herbal Toothpaste is fluoride free.
K P Namboodiri's Herbal Toothpaste helps you have a great smile!
K P Namboodiri's  Herbal Toothpaste has been clinically proven* to its effectiveness
Share
View full details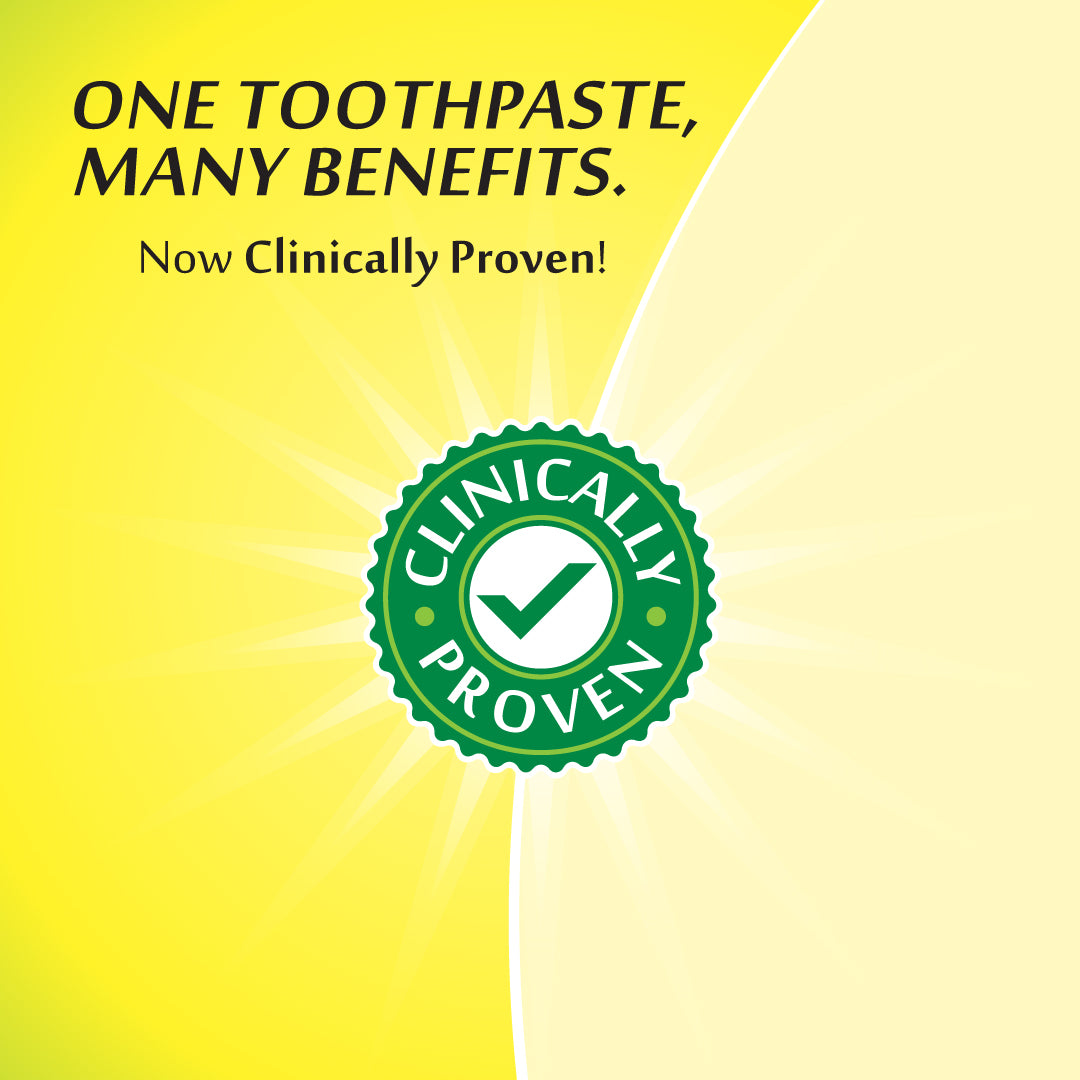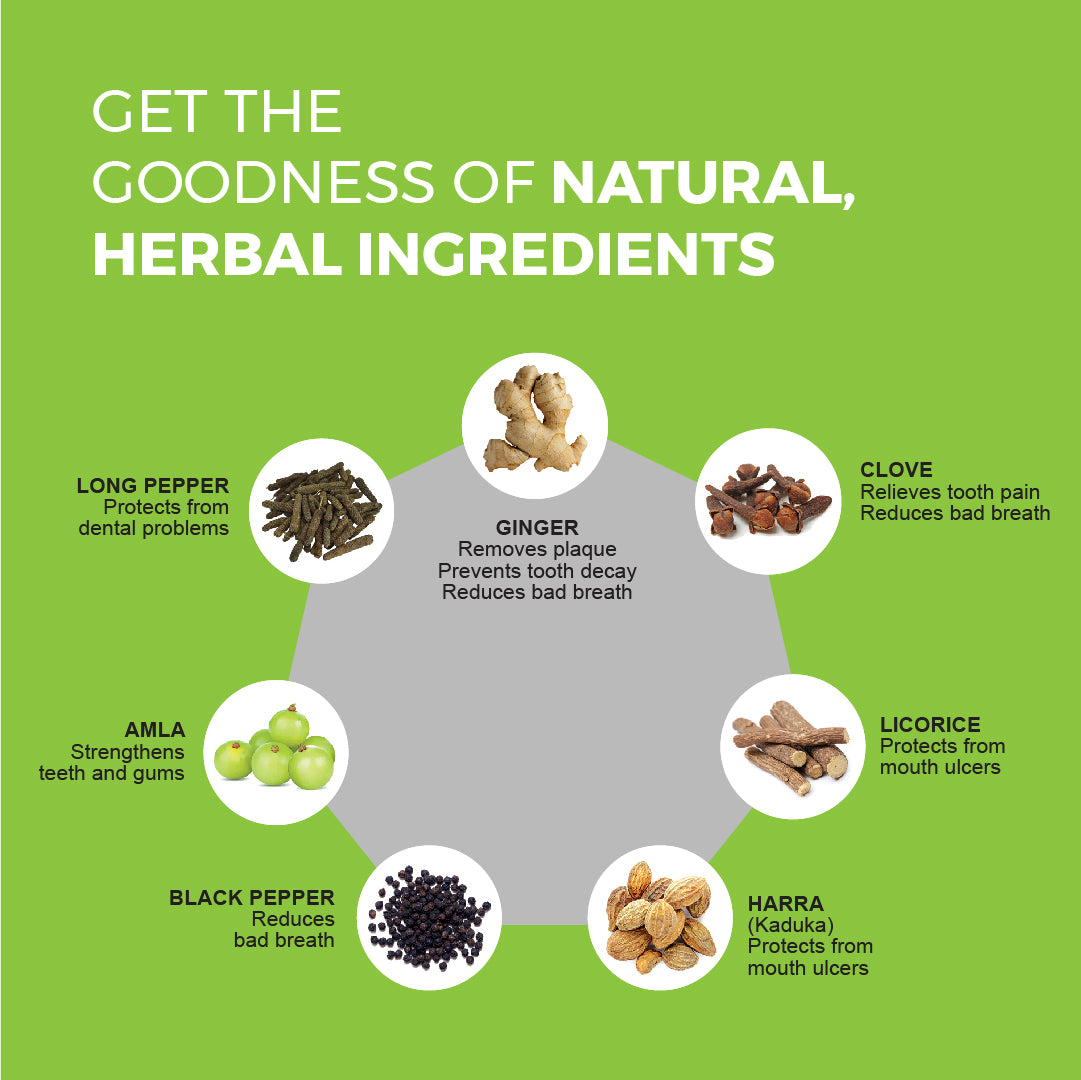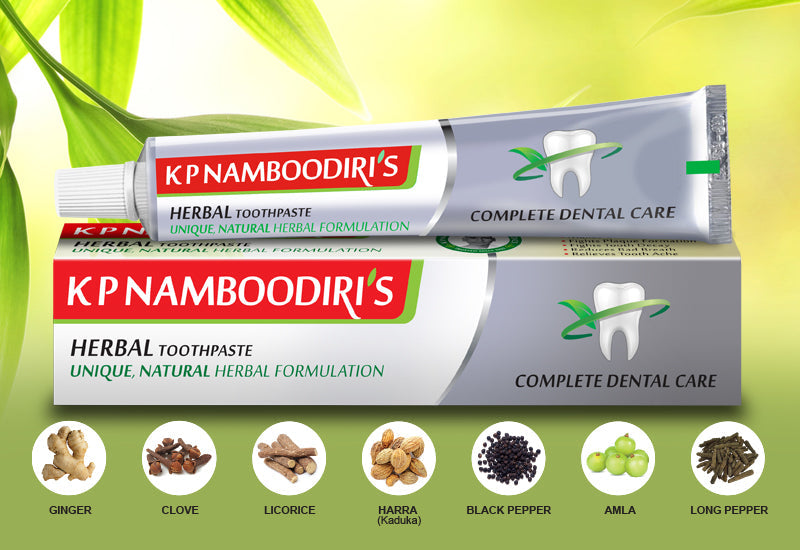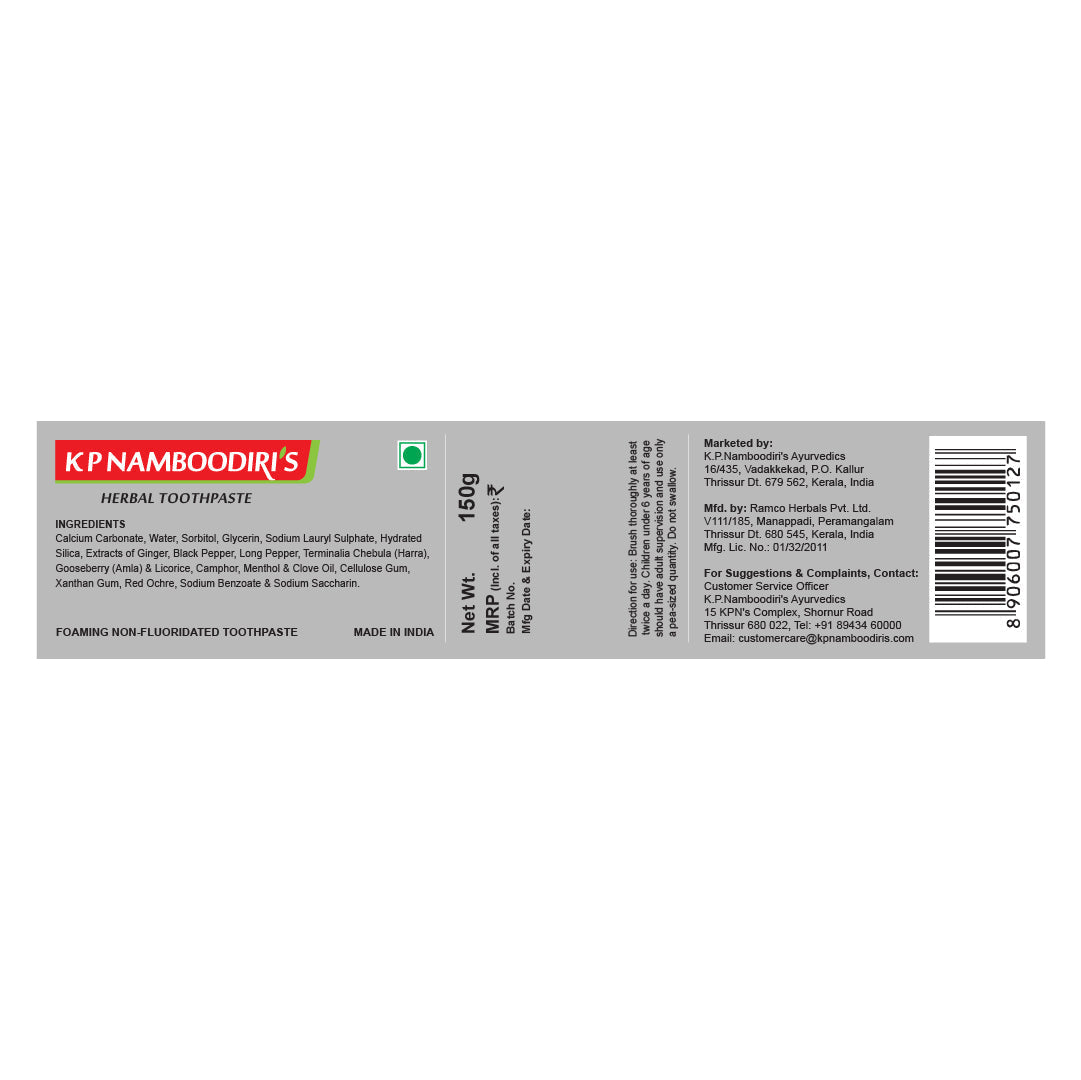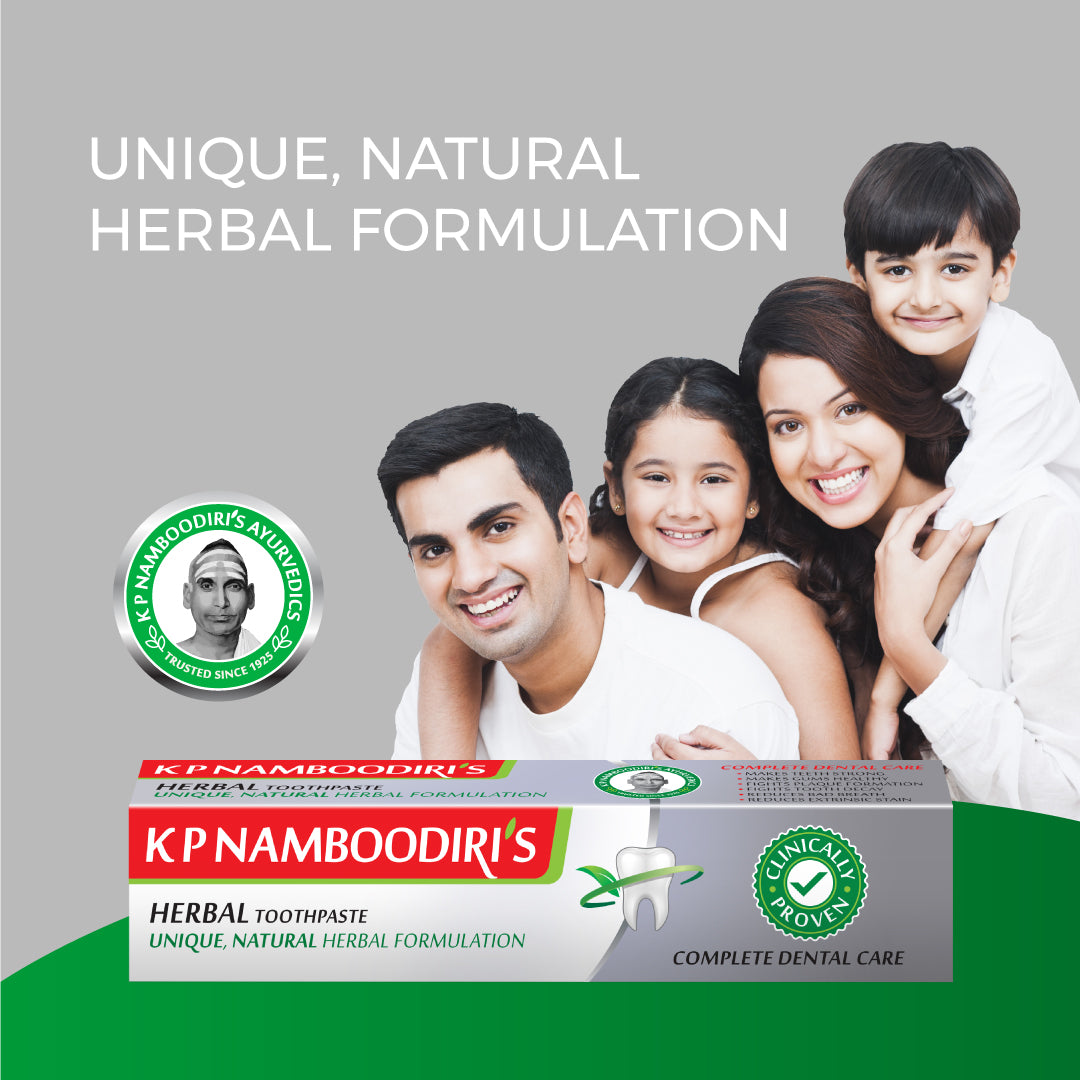 Key benefits of using K P Namboodiri's Herbal toothpaste
Makes teeth & gum strong and healthy

Our herbal toothpaste has the goodness of Clove and Amla, which restrict the growth of disease causing bacteria and maintain
oral health

Fight plaque formation

Antibacterial properties of the ginger present in herbal toothpaste help prevent the buildup of bacteria and plaque around teeth and gum. This can help to keep your mouth healthy and free from
infection.

Fights tooth decay

Our Herbal toothpaste has anti-inflammatory properties,  Herbal elements in this toothpaste help reduce the oral bacteria that lead to cavities and makes your teeth
strong and healthy

Reduce bad breath

The pepper and ginger present in K P Namboodiri's Herbal toothpaste are natural stimulants that can help break down the substances that cause bad breath. These substances can include food particles, bacteria, and other debris. Pepper and ginger can also help to kill bacteria that can cause bad breath.

Reduce extrinsic stain

Herbal toothpaste contains a blend of natural ingredients which helps to remove the stain and keep your teeth healthy.
Ginger

Removes plaque, prevents tooth decay and reduces bad breath

Amla

Strengthen teeth and gums

Longpepper

Protects from dental problems

Licorice

Protects from mouth ulcers

Clove

Relieves tooth pain, reduces bad breath
How to use K P Namboodiri's Herbal Toothpaste
Wet your toothbrush, apply the toothpaste and brush your teeth. Spit out the foam after brushing. Rinse your mouth thoroughly. Use twice daily or as directed by the dentist.

Children under 6 years of age should have adult supervision.
K P Namboodiri's Herbal toothpaste Clinically Proven
FAQ
What are the keybenefits of using K P Namboodiri's Herbal Toothpaste ?

Makes teeth & gum strong & healthy
Fight plaque formation
Fights tooth decay
Reduce bad breath
Reduce extrinsic stain

Is this an ayurvedic toothpaste?

This is a herbal toothpaste
Are the flavors inside the toothpaste natural ?
Is this fluoride free?

Yes, K P Namboodiris herbal toothpaste is fluoride free
Can children use this?

Children under 6 years of age should have adult supervision